---
| | | |
| --- | --- | --- |
| LENIO flex | System for Sinüs Ostia Dilation | |
Small Balloon - Great Effect
The Lenio Balloon System offers minimally invasive intervention for those patients with chronic rhinosinusitis who may no longer respond to or be treated effectively with medication

The efficasy and establishment of balloon sinusplasty techniques has been proven by several U.S. studies over the past few years

Lenio Flex catheters are suitable for treating ostia in areas of

Frontal Sinuses
Maxillary Sinuses
Sphenoid Sinues
| | | | | |
| --- | --- | --- | --- | --- |
| | | | | |
| Inıtıal findings | 1. Insertion of guiding wire | 2. Placement of catheter and dilation | 3. Removing balloon | 4. Drained frontal sinüs |
| | |
| --- | --- |
| LENIO flex | Flexible and Highly Effective Technique |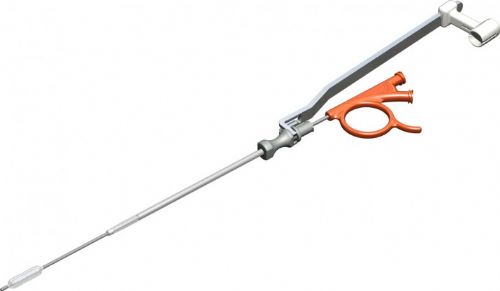 LENIO intro

Tubes with a distal angle 0-110º for targeted navigation of balloon catheter into the respective ostium.
LENIO bridge
A unique handle that locks components together and enables simple handling and navigation of the sinuscope
LENIO cat
Balloon catheters available in both traditional cylindrical shape and custom peanut shape for expanding the respective ostia
LENIO guide
Guide wire in regular or light-compatible options for sinus cavity navigation and as insertion aid for the balloon catheter
LENIO inflate
Precision high-pressure syrynge for inflating the balloon including manometer for precise pressure monitoring
Sinuview

Use the new Sinuview Optics for quick and precise placement of the balloon in the frontal ostium . The endoscope enhances navigation and enables the correct placement of hte catheter under direct vision .

The catheter is inserted through the optical working channel and easily guided into position

The additional suction/flushing channel makes it possible to remove secretions or introduce fluids to clean the distal end of the optic.
LENIOintro Führungskatheter:
| | |
| --- | --- |
| Ballon Durchmesser und Typen (mm) | 5mm zylindrisch, 6mm zylindrisch, 7mm zylindrisch, 7mm tailliert |
| Ballon Länge (mm) | 16mm; 24mm |
| Max Druck (bar) | 16bar |
LENIOguide Führungsdraht - Standarddrähte:
| | |
| --- | --- |
| Drahtdurchmesser (mm/inch) | 0,89mm/.035" |
| Länge (mm) | 500mm; 700mm |
LENIOguide Führungsdraht - Lichtleitender Draht:
| | |
| --- | --- |
| Drahtdurchmesser (mm/inch) | 0,89mm/.035" |
| Länge (mm) | 1000mm |
Joline bietet verschiedene Varianten und Größen an:
Ballon zylindrisch
Ø 5mm
Ballon zylindrisch
Ø 6mm
Ballon zylindrisch
Ø 7mm
Ballon tailliert
Ø 7mm
Länge Ballon
16mm
NODK05C16
NODK06C16
NODK07C16
-
Länge Ballon
24mm
NODK05C24
NODK06C24
NODK07C24
NODK07W24